August Clinic with C.E. Clark at Iwae Dojo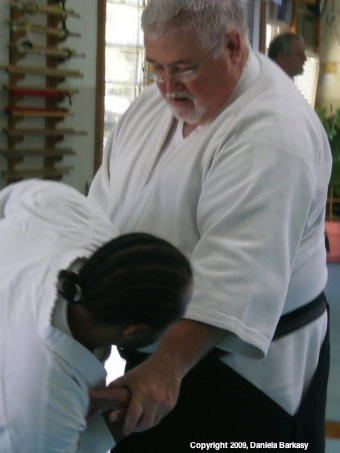 Please join us for a weekend of aikido training with Chuck Clark Sensei at Iwae Dojo.
Jiyushinkai Aikibudo is a principle-based system that is rooted in a study of human physiology, anatomy, and psychology (mind, body and spirit). Rather than relying upon leverage, speed, or strength, a technique must work against the strongest, fastest opponent when executed by the smallest, weakest person or it is either not a viable technique, or it is not being practiced correctly
Space is limited; please register.
Students of all levels and affiliations are invited. Please arrive at least 30 minutes before class for registration.
For more information or to register, please contact:
Tarik Ghbeish 831-359-1270 or by e-mail.
August 13 – 14, 2011
Saturday    9 am – 12 pm  3 pm – 6 pm
Sunday    9 am – 12 pm  2 pm – 4 pm
Jiyushinkai Members    $125
Guests: $150
C. E. Clark, born 1947, began budo training at the age of six and has continued his practice through the present. Clark has studied in the U.S., France, Japan, Canada, and Republic of South Vietnam, and holds the rank of Jiyushinkai Shihan, 8th dan, (has also practiced Kodokan Judo, karate do, jujutsu, Shinto Muso Ryu Jo and T'ai chi ch'uan). Clark has trained under a number of top-level teachers, and has been most strongly influenced by F. Fujita, J. Bayless, R.L. Willingham, E. Cates, F. Hatashita, K. Geis, T. Miyake, P. Relnick, and T. Nishioka. He founded his own organization, the Jiyushinkai, in 1984. A U.S.M.C. veteran of Vietnam and former hospital manager and consultant, Clark is now a writer and budo teacher at the Jiyushinkan in Monroe, WA. He has a son, Aaron, two granddaughters, and a dog.